Cervantes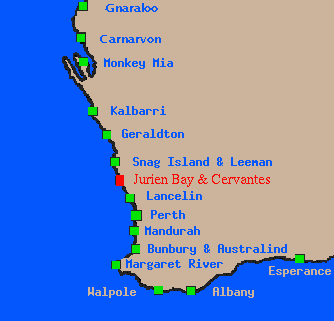 ervantes lies about 200km north of Perth. The best way to get there is down Indian Ocean Drive, a relatively new road between Lancelin and Jurien Bay. Cervantes is a small town with quite a nice sailing beach. It Certainly worth the visit on the way up North. It can have slightly more wind than Lancelin at times, however doesn't have the wave conditions. It gets choppy allowing for some jumps however.
There are no sailboard shops in Cervantes. Thus it is necessary to make sure that you have all your gear when you go there.
Cervantes is a small town. There are a few shops, including a general store, a laundromat and a pub (hotel). There are a few motels, and doubtless some rental property.
Pinnacles Beach Backpackers

One excellent place to stay is the Pinnacles Beach Backpackers facility. This is a new facility, and has been rated a 4 star rating from the Royal Automobile Club. A picture is shown here. The proprietor is Tony Lambert, and he is very proud of the success and quality of his establishment. Details can be got from their web page. This photo album shows the facilities.
I have not been to most of the places listed below. They may be useful if you are looking for somewhere to stay in Cervantes.
Cervantes Backpackers
Aragon St - 9652 7060
Cervantes Pinnacles Motel
Aragon St - 9652 7145
Cervantes Pinnacles Caravan Park
Aragon St - 9652 7060
The main windsurfing spot is Thirsty Point. This is part of a shallow sandy bay, with a reef and Island offshore, providing quite a good flat water area, that will get some wind swell when the wind gets high.
The prevailing wind is almost on shore, however it is quite an easy sail from the shore. It is excellent for the Slalom types, with good sailing for the short board sailor as well.
Pinnacles Dessert

There are many things to do around the area. One famous landmark is the pinnacles desert. This is about 35km out of Cervantes, and is worth the drive. Be careful around dusk however, kangaroos abound. Doubtless there are tours from the town, and certainly there are via Pinnacle Tours from Perth.
This album shows some shots of the Pinnacles dessert.
Lake Thetis

The Thetis Lake is worth driving into for a look. It contains Stromatolites, organisms living from millions of years ago. The photo album contains descriptions.
Other activities include ocean cruises, whale watching (in season), fishing, bush walking and wild flower Tours. This is well referenced in the Pinnacle Beach Backpackers activities page .