Cocos Islands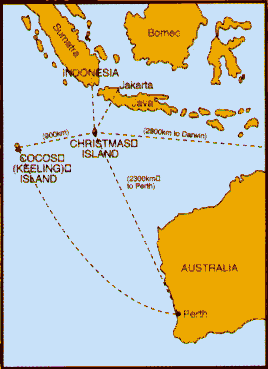 he Cocos (Keeling) Islands are about 2700km north west of Perth. They are located in the Indian Ocean at latitude 12 deg 10 min south and longitude 96 deg 50 min east. The map above (linked to the Cocos Island Tourism Commission) shows the position of the Island from the mainland of Australia. This map (Courtesy of the General Libraries, The University of Texas at Austin), shows the islands' layout (114k).
The Islands have a complex and turbulent history, which is described in an excellent book The Cocos (Keeling) Islands by Pauline Bunce and can is also outlined in the Department of Transport and Regional Services page, the Cocos Island Tourism Commission page and the Cocos Solutions page.
The islands are now a territory of Australia and provide a superb windsurfing and kite sailing location around the June - September period.
---