Coral Bay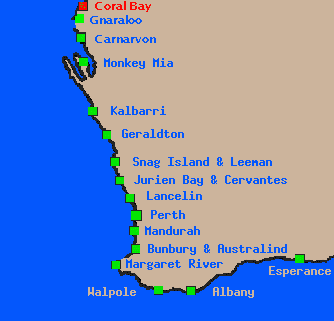 oral Bay is about 100 km north of Gnaraloo. You can get there by driving, or via light aircraft.
Coral Bay is not really a place for windsurfing. The coral comes right in to the shore, and the offshore reef stops all the possible surf. The height of the coral at low tide would probably reek havoc with your fin, and a lot of local knowledge would be required to sail the area. That being said, there were a couple of windsurfers there when I was last.
Coral bay is however a great place to visit, and if you were up at sailing at Gnaraloo, it is well worth driving the relatively short distance from Gnaraloo to Coral Bay. Unfortunately, unless you have a 4 wheel drive, it would be advisable to drive out to the main highway before venturing North to Coral Bay. If you had a 4wd, I believe that you could drive straight to Coral bay, saving quite some distance.
I flew into Coral bay, thus have no experience of the road conditions.
---
---