Lancelin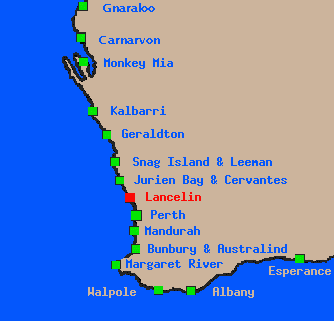 ancelin lies about 130km north of Perth (map). It is a small fishing village (mainly Crayfish (lobster) Fishing), that also has a large contingent of sailors from Perth, the rest of Australia and from around the world. It has about a dozen shops, 2 Hotels, 400 local residents and many holiday residents.
There isn't a sailboard shop in Lancelin any more but Lancelin Surfsports do have a dwindling amount of gear.
If you require gear and don't want to drive to Perth, I would suggest that you contact Windurfing Perth. They have all the gear and can help to get it to you in Lancelin.
Similarly if you require kitesurfing gear, Kite Addiction is a good resource.
Probably most of the Perth shops listed in this web page will be helpful in this regard also, but I have had good response from Windsurfing Perth and Kite Addiction in the past.
During the Australian summer Lancelin comes alive with windsurfers from all over the world. It provides a great holiday place for the sail-boarder, with warm weather, consistent winds, and surf. Lancelin is close enough to Perth to attract day sailors as well as long term visitors from the rest of Australia and around the world.
The following pages describe the conditions, accommodation, night life and resources for the windsurfing holiday.