Lancelin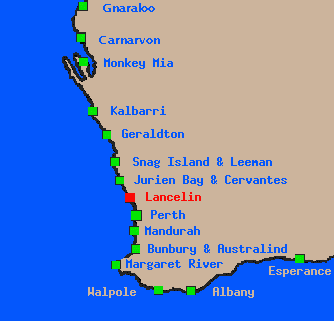 ancelin lies about 130km north of Perth (map). It is a small fishing village (mainly Crayfish (lobster) Fishing), that also has a large contingent of sailors from Perth, the rest of Australia and from around the world. It has about a dozen shops, 2 Hotels, 1 sailboard shop, 400 local residents and many holiday residents.
Here is a Google Map of Lancelin showing some points of interest in the area.
During the Australian summer Lancelin comes alive with windsurfers from all over the world. It provides a great holiday place for the sail-boarder, with warm weather, consistent winds, and surf. Lancelin is close enough to Perth to attract day sailors as well as long term visitors from the rest of Australia and around the world.
The following pages describe the conditions, accommodation, night life and resources for the windsurfing holiday.
---