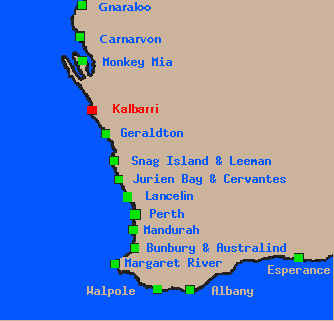 Kalbarri is about 130km north of Geraldton. It is not really a sailing spot. You may be able to sail in the mouth of the river if the wind was westerly, however this is not a likely wind direction.
Kalbarri is however a beautiful spot, with gorges and the Murchison river meandering through the town. It is well worth the drive from Geraldton, especially if the wind is light for a couple of days. it only takes about 1.5 hours to drive there.
The web page http://www.kalbarri.com has many informative details about the area and attractions and is well worth visiting as is the page http://www.kalbarriwa.info/
There are many places to stay in Kalbarri, including resort style accommodation, units, backpackers accommodation, camping grounds and bed and breakfast houses. The way to pre book accommodation is to contact the Kalbarri Tourist Bureau, they have details of lots of places. Contact details are here.
Also a lot of information about accommodation is available via the Kalbarri accommodation service page http://www.kalbarriaccommodation.com.au
We stayed at a bed and breakfast on the main street in Kalbarri. It was superb, having access to the swimming pool directly out the front. This album shows pictures of the B&B.
Kalbarri in at the mouth of the Murchison river, on the coast of WA. The Murchison meanders through a a series of gorges, on it's way to the sea. There is horse riding, abseiling, canoing, walking and much sightseeing to be done in the area.
We did a tour with Kalbarri Adventure Tours, that took us walking through some of the gorges and canoing down the river. It was an all day tour for $60, and exceptional value. This album shows some pictures taken of the scenery during the tour.
Contact details for Kalbarri Adventure Tours can be found here
---