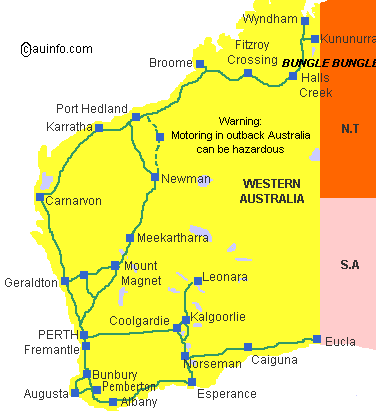 Image courtesy of Auinfo.com
Broome is about 2200 km north of Perth. It is not really a sailboarding spot but can provide some kitesurfing. Kiting off Cable beach is ok, since the beach is wide and great for launching. The prevailing wind is onshore, maybe with some cross wind. The beach doesn't really provide wave or flat water sailing, just light chop most of the time. The breeze seems reasonably consistant over the winter.
It is also possible to kitesurf in the mouth of the Willie Creek, 30km north of Broome. This looks like a great location, however there are Crocodiles inland and Tiger sharks off shore. I gather that you have to choose your spot. It would be really great flat water kiting however.
This area isn't really a great windsurfing or kitesurfing location, however there is some kiting if you are passing through. I would certainly not go there to specifically kite or sailboard, however it is interesting to see. you can also visit interesting places in the Kimberley from there.
The Broome Visitor Center has a web page that describes a lot about the area.
There are many places to stay in Broome, however the best spot is the Cable Beach Resort. If it is within your budget, you would be disappointed not to have stayed there. It is right on Cable beach and you can easily carry your gear from your room to the beach. After a good kite, you can also have a quiet drink at the sunset bar. on your way back to your room.
The best season for visiting Broome is probably between May and September. These are the winter months when the weather is warm and beautiful. The summer months are the wet season, which is hot, humid and can suffer from cyclones. We found October had good weather, however it was humid.
The two main tourist trips that we did were a Pearl Farm tour to Willie Creek and a Sailing trip on a large gaff rigged boat. Both trips were excellent. We were a little late in the season (October) and some tours were closed.
We also flew north up to Cape Leveque. This is a great flight providing a good look at the Archipeligo. The conditions were very hazy however, which made it stressful for the pilot (me). It is possible to get commercial trips into the area.
Here is an album of shots we took while in Broome.
---